Description
What you get:
basically you get what you see on the product pictures
A prebuilt kit of the spot welder V2.2 with all the electronics already soldered to the pcbs.
4 M3 Nylon screws with nuts to screw the two pcbs together sturdy if you like. (They also stay together without the screws installed)
The Arduino is programmed with the latest version of the spot welder programm.
All kits are assembled and tested at our shop in germany
Please read the Quick Start Guide before using the Spot Welder !
You can add OPTIONAL:
Welding Cables: 2 about 50cm long, high flexible 16mm² welding wires with solid copper welding tips and crimped cable shoes.
Diode Set: A diode set with a schottky and TVS diode (These are the diodes only. You need to install them to the Spot welder yourself. For optimum results use 10mm² wire.)
What you need to finish it:
a footswitch with cables (optional)
12V car battery with battery terminals to supply the welding current
12v power supply or 2-3s lipo battery to power the spot welder
There is some easy soldering required to finsih this product. All pcb files, part list, Arduino code… can be found at my Github page. More detailed information can also be found at the instructables and in the video.
Update 05.2017
Improvements in the V2.2:

Mosfet PCB now with 2oz copper layer and wider traces which connect the high current carrying mosfet legs to the u-shaped aluminum part
little bit bigger mounting holes for u-shaped aluminum piece (2.6mm instead of 2.5mm)
"AutoPulse" feature, which automatically activates a pulse after a 2 second delay when both welding tips touch the nickel strip (thanks to Petr Zverina for the idea)
upgraded Mosfets to IRFB7437 (they can handle up to 1000A welding current with no problem)
u-shaped aluminum parts is now riveted to the pcb
due to many requests all prebuilt kits do come now with a default pulse time adjustable from 1…90mS
What is it?
An Arduino Nano based Spot Welder for battery welding
This Spot Welder can be used to weld 18650 batteries. It needs a 7-12V power source (12V recommended) and uses a 12V car battery as welding current supply. Typically one 40Ah 440A battery delivers enough current to get good welds with 0.15mm nickel strips. For thicker nickel strips maybe you will need bigger battery or two in paralell.
The Welder generates a double pulse, where the first one is 1/8 of the time of the second one. Pulse time of second pulse is adjustable by the potentiometer and displayed on the screen in mS so you can exactly adjust the time. Its adjustable from 1 … 90 mS.
User "emaayan" on thingiverse made a 3d printed case for the spot welder: Spot Welder Case
The new "AutoPulse" feature:
The "AutoPulse" feature automatically activates a pulse after a 2 second delay when both welding tips touch the nickel strip. If it is activated you can not use the foot switch to activate a pulse. To deactivate it simply remove the Jumper next to the Arduino.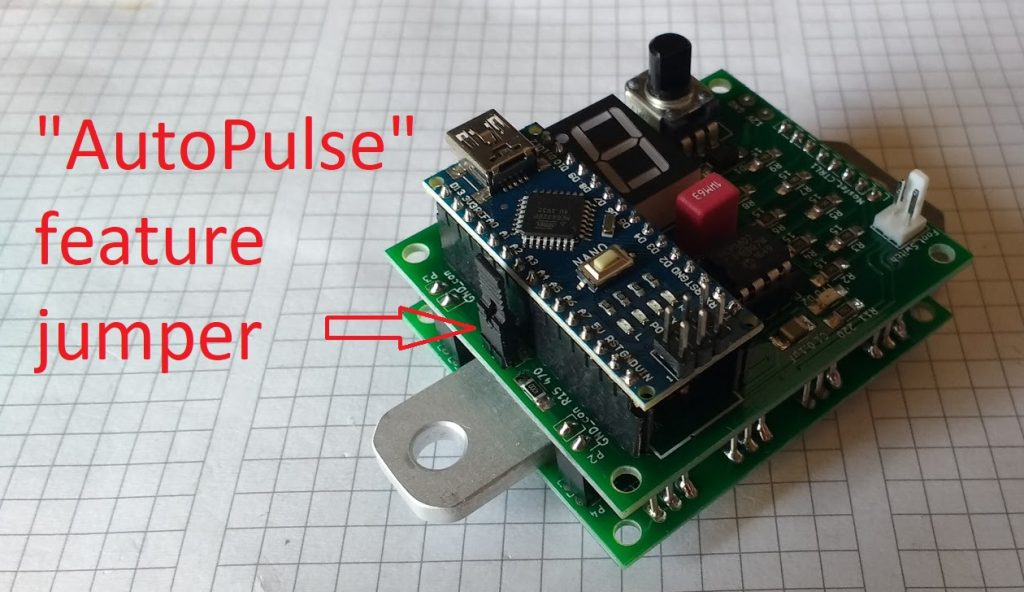 Video on how to use it:
start at minute 7:00 (the rest is a build guide if you want to make the Spot Welder yourself)