There is a software update V3.3.2 available. It is compatible with all V3 DIY Arduino Battery Spot Welder versions.
This new software version has the following improvements:
Weld time can be set down to 1ms (before minimum was 3ms)
Short Pulse (preheat pulse) percentage can be adjusted down to 0% (0% turns the short pulse off)
on weld times below 3ms the short pulse (preheat pulse) will be automatically disabled
battery voltage only updates about every 15 seconds now
low battery message can be canceled by clicking the rotary encoder
code is now compatible with the newer Adafruit SSD1306 and GFX library versions
The Arduino code is open source and you can download it from Github.
There is also an updated software installation tutorial available that shows you how to update your spot welder to the latest software version.
Improvements in Detail
The main improvement of the new software is the possibility to disable the short pulse and the possibility to set the weld time down to 1ms. The short pulse is used to preheat the weld spot for the main pulse. For normal nickel strip welding this method works fine. But some users required to weld very thin cables or metal pieces while still using a relatively strong car battery or lipo for welding current supply. When doing this a weld time of 3ms plus the preheat pulse was already to much.
For a better understanding of the pulse take a look at the following diagramms. Here the main pulse (weld pulse duration) was set to 10ms and the short pulse was set to 10% in the welders menu.
As you can see the welder calculated the short pulse (10% of 10ms = 1ms) and adds this pulse in front of the main pulse to preheat the weld spot. It then switches the pulse off for 1ms and then activates the main pulse.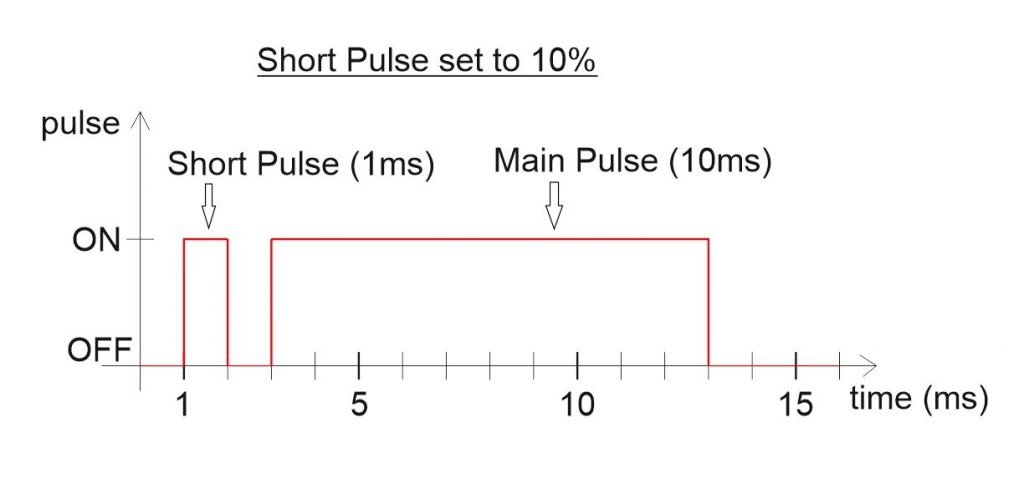 In the following picture the main pulse (weld pulse duration) was set to 10ms and the short pulse was set to 0% in the welders menu. Then the welder only activates the main pulse for 10ms and the short pulse is completely disabled. Also if you set the weld time below 3ms the welder will automatically disable the short pulse no matter what short pulse percentage is set in the menu.