The SMD TVS Diode used on the Spot Welder V3 seems to have problems when using very big car batteries (e.g. 800 CCA). So it is recommended to replace it with a stronger one. Read more to find out the details.
Although the SMD TVS diode has pretty much the same specs as the bigger through hole TVS Diode used on the previous Spot Welder versions it seems to struggle with very strong car batteries. There where some fails of the diode reported by users who used 800 CCA or stronger batteries. So i decided to replace the diode with the through hole version, which is a bit more robust.
I do still recommend to use car batteries between 400 to max. 600 CCA to power the Spot Welder. These will guarantee a reliable operation and long lifetime of the unit.
All prebuilt kits shipped from now on will come with the bigger TVS diode installed. If you already bought a prebuilt kit and have trouble with the SMD diode contact me and i will ship you the bigger one for free. Or if you can not replace it yourself i will exchange your mosfet board for free.
TVS Diode Replacement Instruction:
Parts needed: TVS diode 625-5KP13A-E3 (Mouser.com)
Step 1: Desolder the SMD TVS diode and scratch of the solder stop paint from the ractangle part with the many holes on the pcb with a box knife. We need this because the through hole TVS diode is a bit wider than the SMD version.
Step 2: Add some solder to the blank copper on the scratched area.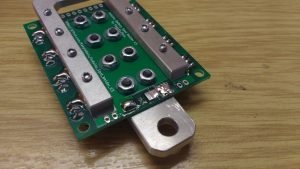 Step 3: Bend the through hole TVS diodes legs 90 degrees as close as possible to the diode and cut them short so the diode can be mounted on the pcb. Then put some solder on the legs and solder the diode to the pcb. Solder the left side first. When the diode stays in place solder the right side (scratched pcb side). Make sure to use a powerful enough soldering iron so you dont heat the diode very long.
It is necessary to solder the diode directly on the pcb without extension wires. This way it does the best job eliminating the high voltage spikes.